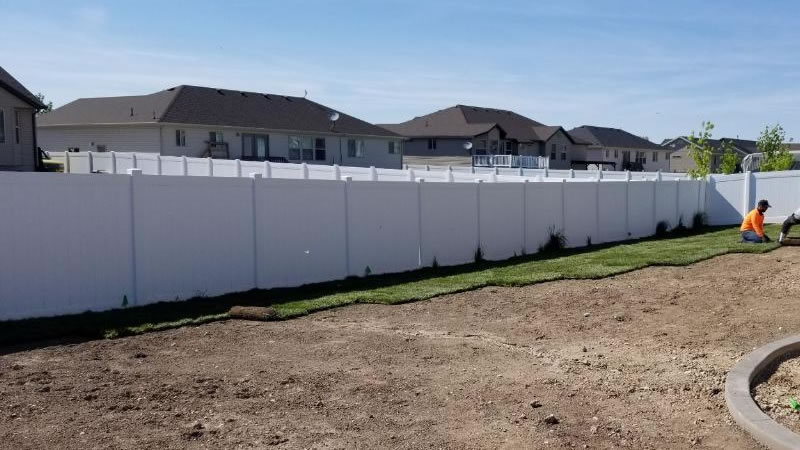 Vinyl Fence Construction
Vinyl fencing is a great solution for privacy fencing or decorative fencing for your property.  It's highly durable and is designed to also be maintenance free.  It's never going to rust or rot and you will never have to paint or stain it either.  Vinyl fencing products are made with a high concentration of UV inhibitors in their outer layers that protect them from fading.
Whether you're trying to get some privacy from your neighbors or you want to keep your kids or pets within your yard you'll find that vinyl fencing makes a great solution.  Vinyl fences come in a wide variety of styles and heights to provide the looks, security and privacy you need on all types of properties.
S&S Sprinklers and Vinyl Fencing is a full service sprinkler and landscape installation company serving Ogden, Utah and the surrounding area. We specialize in building all types of vinyl fences along with the installation of finishing accessories like post caps, and fence tops in a variety of styles to make your fence look great!  For a consultation or estimate regarding your specific vinyl fencing project, please give us a call at (801) 477-8444 or fill out our contact form so we can schedule a convenient time to meet with you and provide you with some solutions for your property.
Vinyl Fence Types We Can Install:
Vinyl privacy fencing
Vinyl semi-private fencing
Vinyl picket fencing
Vinyl post & rail fencing
Vinyl pool fencing
We Can Install Vinyl Fencing For:
Private homeowners
Private estates
Condos, townhomes, and HOA's
Commercial properties
Farms, ranches, and equestrian properties
Choose S&S Sprinklers and Vinyl Fencing For Your Vinyl Fencing Needs
When you choose S&S Sprinklers and Vinyl Fencing for your vinyl fencing services you're partnering with a small team of talented landscape specialists who genuinely care about the health and security of your property.  With our knowledgeable team, professional equipment, and high level of workmanship you can count on having a beautiful, functional, vinyl fence installed.
During our consultation with you we can discuss your specific property, what your privacy goals are, what type of vinyl fencing might be best for your budget, and then we can provide you with an estimate to build the new vinyl fence "turn-key".  You won't have to lift a finger except to call us out for your initial consultation.
If you would you like to schedule an estimate to install new vinyl fencing on your property please give us a call (801) 477-8444 or fill out our contact form and someone will be getting back to you shortly to schedule your appointment.