Concrete Curbing Installations Ogden Utah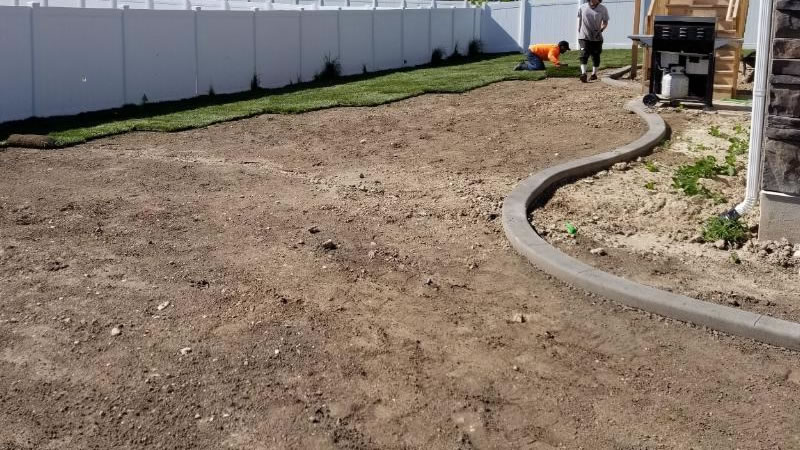 Concrete Curbing Installations Ogden Utah
Curbing or the addition of landscape borders provide a beautiful "finishing touch" to residential or commercial landscaping.  The addition of concrete curbing adds seperation and definition to your landscaping and works to prevent grass from slowly taking over your garden beds.  Curbing can accent the curves and natural contours of your landscaping elements and offer a beautiful transition between two materials such as a paver patio and grass or grass and your driveway for example.
S&S Sprinklers and Vinyl Fencing is a full service sprinkler and landscape installation company serving Ogden, Utah and the surrounding area.  We specialize in the installation of concrete curbing for both residential and commercial landscape projects.  Whether you want some concrete curbing around some curved garden beds or you'd like concrete curbing to edge several hundred feet of a grassy area, our team can help.  We can install concrete curbing in a variety of colors, widths, and heights to meet your specific project requirements.
We Can Install Curbing Around:
Garden Beds
Flower Beds
Walkways and Pathways
Driveways
Patios
Parking Areas
And More…
Why Choose S&S Sprinklers and Vinyl Fencing To Install Your Concrete Curbing?
When you choose S&S Sprinklers and Vinyl Fencing for your concrete curbing services you're partnering with a small team of talented landscape specialists who genuinely care about the health of your property.  With our knowledgeable team, professional equipment, and high level of workmanship you can count on having beautiful, durable, curbing installed that will keep your landscape looking great for many years to come.
If you would you like to schedule an estimate for concrete curbing installation please give us a call (801) 477-8444 or fill out our contact form and someone will be getting back to you shortly to schedule your appointment.