Sprinklers, Sod Installation, Curbing, and Vinyl Fencing Farr West UT
Sprinkler Systems, Sod Installations, Concrete Curbing, and Vinyl Fencing
We are a specialized landscaping company serving Farr West Utah
Sprinkler System Services Farr West UT
We specialize in everything sprinklers and irrigation.  Whether you need a new multi-zone lawn and garden sprinkler system installed or you want to upgrade (retrofit) an older system with new, more efficient spray nozzles and a wireless controller, or you'd like to repair an existing sprinkler system that is broken or malfunctioning our team of sprinkler specialists can help.
New Lawn Installations Using Sod In Farr West Utah
Are you looking to install a new lawn or possible renovate an existing lawn that isn't look that great anymore?  We specialize in the proper installation of new lawns using sod.  It starts with properly grading and leveling your property, installing a new lawn sprinkler system, and then installing high-quality sod.  Instead of waiting weeks for grass seed to grow and trying to keep pets and people off your lawn, you'll have a brand new, beautiful, lush, green lawn in just a matter of days.
Concrete Curbing Installation Farr West Utah
Curbing is the addition of landscape borders provide a beautiful "finishing touch" to residential or commercial landscaping.  The addition of concrete curbing adds seperation and definition to your landscaping and works to prevent grass from slowly taking over your garden beds.  Curbing can accent the curves and natural contours of your landscaping elements and offer a beautiful transition between two materials such as a paver patio and grass or grass and your driveway for example.
Vinyl Fencing Installations Farr West Utah
Vinyl fencing is a great solution for privacy fencing or decorative fencing for your property.  It's highly durable and is designed to also be maintenance free.  It's never going to rust or rot and you will never have to paint or stain it either.  Vinyl fencing products are made with a high concentration of UV inhibitors in their outer layers that protect them from fading.
Whether you're trying to get some privacy from your neighbors or you want to keep your kids or pets within your yard you'll find that vinyl fencing makes a great solution.  Vinyl fences come in a wide variety of styles and heights to provide the looks, security and privacy you need on all types of properties.
Choose S&S Sprinklers and Vinyl Fencing For Your Landscaping Needs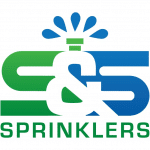 When you choose S&S Sprinklers and Vinyl Fencing for your sprinkler system, sod installation, curbing, or vinyl fencing, you're partnering with a small team of talented landscape specialists who genuinely care about the health, looks, and security of your property.  With our knowledgeable team, professional equipment, and high level of workmanship you can count on us leaving behind a beautiful landscape.
If you would you like to schedule an estimate for any of our services please give us a call (801) 477-8444 or fill out our online contact form and someone will be getting back to you shortly to schedule your appointment.